Ah, the holidays! The hot chocolates, the snow and all the Christmas lights a'glow!
As we are almost finished with our
Fall Bucket List
, we welcome the Winter time with open arms! Winter is an amazing time for all the different activities you can do. Although I am not a big fan of the cold weather, the holidays, family gatherings, and winter activities make up for it all! I love adventuring and making plans with friends and family but what I love the most is spending time with them. There are so many things to do in the company of friends, family, a date night with bae, and even spending some alone time with yourself! Here are some things for at home and around my area to give you some ideas for what you can do!
With so many places to Ice Skate in the area, the National Gallery of Art and Sculpture Ice Rink definitely has my heart. This is family-friendly, but it is also the P E R F E C T location for a date night. It has such a romantic vibe for ice skating with your significant other. I'm a softie and hopeless romantic so I love things like this!
I love ringing in the holiday season by visiting The National Zoo in Washington, D.C. Every year they cover the entire zoo with lights, decorations, and the smell of hot chocolate and treats! They also have local vendors who sell unique items like candles, artwork, jewelry and so much more. Not to mention this event is FREE! All you have to pay for is parking and what you decide to munch on. A perfect night can start with dinner in the city and ending off with a walk through Zoo Lights! This is such a great place to take the family or even for date night. This will be held November 29th to January 1st excluding the holidays!
I fall in love with D.C the more I go there. During the winter time, they light up those fire pits at the Wharf Waterfront to heat up some s'mores! What's better than cuddling up with a blanket and come good sweets?! It's such a beautiful area to walk around as there are shopping, dining and entertainment spots to keep your night going! They also put up an ice skating rink for your winter spins.
I have been wanting to go to this for the longest time! A fun fact about me is that I have a huge passion for art and Georgetown Glow lights up all of D.C around this time of year. Georgetown glow is an artwork exhibition that displays art light installments. From local artists to internationally, something about bringing outdoor artwork together makes this time of year so magical. This starts December 6 to January 5 and I recommend going in the beginning when they first open, I have heard some civilians decide to mess with the artwork as time goes on *sad face*.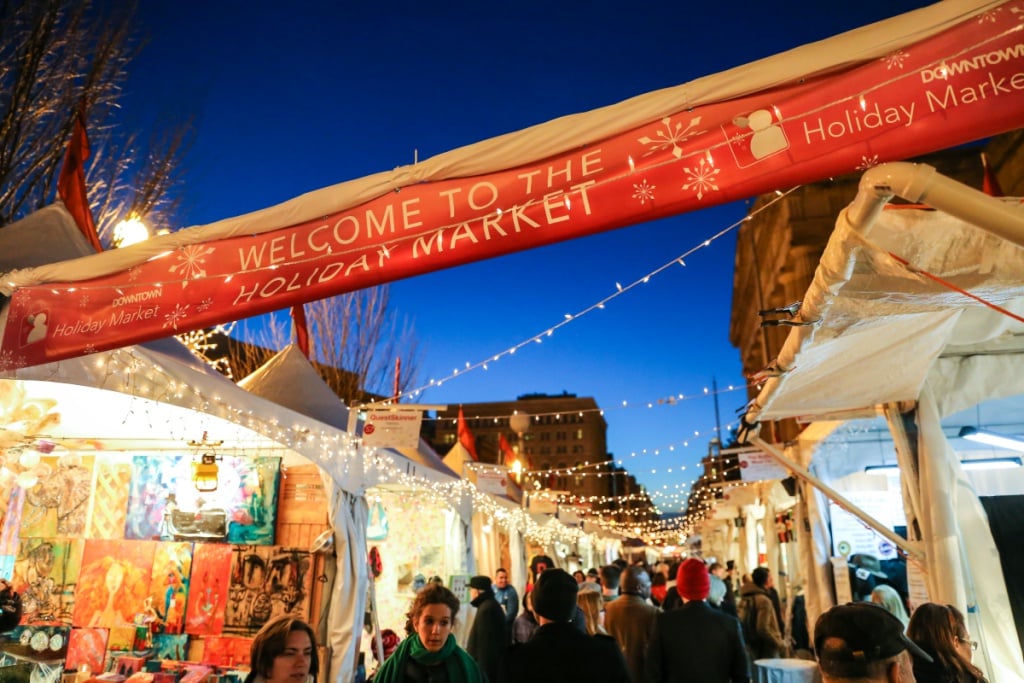 All merry and everything jolly! Holiday markets are everywhere and I am pretty sure in every state. I absolutely fell in love with the holiday markets in Bryant Park, New York. Sugar, spice and everything nice, these holiday markets are a go-to spot to for an adventure. The downtown holiday market in D.C is super popular and will start
November 22 thru December 23 : 12 p.m. to 8 p.m. daily.
Centered at 8th and F Streets, NW you are able to go through the markets and shops as well as enjoy some delectable D.C eats.
Plan a Christmas Photoshoot!
Your girl loves taking cute Instagram pictures and definitely during the holiday season! Plan some outfits and go take some pictures with some friends, family or by yourself so you can bring some Christmas joy to your feed! I love planning our yearly Christmas photoshoot with Antonny and the our fur babies - we have our 2019 Christmas shoot scheduled already and I can't wait to have Doug in this years pictures!
Let's Bake Some Cookiesssss
Now let's get into the good stuff where being at home on those cold nights can always be fun and enjoyable. Cookie baking is my all time favorite thing to do! Whether if it's from scratch or buying a pre-made Pillsbury box, who cares! Holiday themed ANYTHING are the best sweet treats to make with the family and bae. Grab a glass of milk, warm up the fireplace, and cuddle with your cookies on the couch with a cozy blanket!
How About Some Decorating?!
Nothing is more festive than getting your place in the holiday mood! Reds, greens and whites spark joy at this time of year and spreading that throughout your home will welcome all guests. Antonny and I already put or tree up a week and a half before this post goes up and he probably thinks I'm crazy, but I live for the holiday moments like these! This year, I want to do a DIY project on our first wreath so keep an eye out for that on my Instagram!
Coffee Shops and Cafe's
If you have read my previous blog posts, you might know that I have a love for coffee shops and small cafe's. For brunch or some sweet drinks, all coffee chops are so different with their seasonal menus. I like trying new things and places so I will visit many coffee shops to do my blogging work and try their seasonal specials. My favorite coffee shop by far is the Frederick Coffee Company located in Downtown Frederick, Maryland. Their hot chocolate is by far the richest I have ever tasted! They also have small bags of marshmallows for purchase with a hot chocolate that they label as "snowman poop". That might sound a bit weird but I think it is THE CUTEST THING EVER.
I hope with these plans that I have in mind to do this season, it can give you an idea on what to plan with your friends and family. This season is about being thankful and coming together with those you love and cherish.
Be in the moment and live in the moment.
Happy Holidays, xx